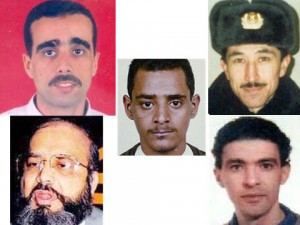 By Debra Sweet
The voices almost never heard in the discussion of torture, indefinite detention and Bush's Guantánamo are the men who were themselves detained. Over 600 have been released, in a tacit admission by the U.S. that they committed no crimes. 174 are still detained, even though Obama's own commission found last year that more than 90 should be released immediately. We should hear these voices.
Andy Worthington published this letter last week, from a Yemini detainee:
A letter from Guantánamo, by Adnan Farhan Abdul Latif
To Attorney David Remes who dedicated his efforts to work on my dead case. The case that has been buried by its makers under the wreckage of freedom, justice, and the malicious and cursed politics.
Testimony and Consolation
I offer my dead corpse to the coming Yemeni delegation.
They agreed on the torture and agonies that I went through all those years.
They knew that I am innocent and at the same time ill and that I left my country to seek treatment.
This is also a message to the Yemeni people who bear the responsibility of my death in front of God and the responsibility of all of the other Yemenis inside this prison. This prison is a piece of hell that kills everything, the spirit, the body and kicks away all the symptoms of health from them.
A Testimony of Death
A testimony against injustice and against the propagandists of freedom, justice and equality.
Adnan Farhan Abdulatif while in the throes of death.
From Close Guantanamo with Justice Now, by dozens of organizations to mark the beginning of the 10th year of Guantanamo on Tuesday, January 11, 2011:
The story of Guantánamo remains the shameful case of the U.S. government rounding up nearly 800 men and boys, indiscriminately labeling them "the worst of the worst," and throwing them into an island prison designed to exist beyond the reaches of the law, where they would have no right to challenge their detention or abuse. The vast majority of the prisoners at Guantánamo should never have been detained in the first place. Many were simply in the wrong place at the wrong time and were fleeing the chaos of war when U.S. forces entered Afghanistan. Only one in twenty was captured by the U.S. military. Most were captured by local civilians and authorities in Afghanistan and Pakistan and sold to the United States in exchange for substantial bounty. According to Colonel Lawrence Wilkerson, a senior State Department official who served in the Bush administration between 2002-2005, the Bush administration knew early on that the majority of the men at Guantánamo were innocent but did not release them due to political concerns that doing so could harm support for the government's push for war in Iraq and the broader "Global War on Terror."
Andy Worthington and other journalists have spent years documenting the abuse detainees suffered. See the report by ProPublica, Prisoners' Recollections Differ from Guidelines, contrasting the "torture memo" report released by the Obama administration in 2009, with its dry and utterly bland descriptions of torture procedures ordered by the Bush regime, with the report of the International Committee of the Red Cross in 2007 which, given the ICRC's reluctance to criticize governments, was scathing in its criticism of the Bush program.
The problem is not simply that Barack Obama has not followed through on his pledge to close Guantanamo by January 22, 2010. In many ways, as we said in the Crimes are Crimes – No Matter Who Does Them statement,
this is worse than Bush. First, because Obama has claimed the right to assassinate American citizens whom he suspects of "terrorism," merely on the grounds of his own suspicion or that of the CIA, something Bush never claimed publicly. Second, Obama says that the government can detain you indefinitely, even if you have been exonerated in a trial, and he has publicly floated the idea of "preventive detention.
Ten weeks after the publication of that statement in The New York Times, Obama, it was reported by Dafna Linzer at ProPublica that
The White House is preparing an Executive Order on indefinite detention that will provide periodic reviews of evidence against dozens of prisoners held at Guantanamo Bay, according to several administration officials… the order establishes indefinite detention as a long-term Obama administration policy and makes clear that the White House alone will manage a review process for those it chooses to hold without charge or trial.
This executive order, may be released on or near January 11, putting a close to any faint illusions — or delusions – on the part of those who says that Obama is "really trying" to close the illegal prison.
In another recent piece With Indefinite Detention and Transfer Bans, Obama and the Senate Plumb New Depths on Guantánamo Worthington says:
President Obama is now fulfilling one of Dick Cheney's great hopes, presiding over a prison in which the overwhelming majority of the remaining 174 prisoners will, in all likelihood, continue to be held indefinitely.
Over at The Talking Dog, dog says:
Every day, in every way, the people of the Obama Administration just want you to know that if there is any material difference between it and the Bush Administration… they must not be doing their jobs right.
Just so we are clear: the continuation of the global "war on terror" continues, now fully endorsed by the administration and the Congress. As always, it's up to us to make our demands visible. Join me in Washington DC on Tuesday, January 11, 2011.

Listen to Andy Worthington interviewed by Rob Kall on OpEdNews
Close Guantánamo With Justice Now!: Sign the Statement from The Center for Constitutional Rights, signed by Amnesty International U.S.A., Witness Against Torture, and World Can't Wait
---
January 17, 2011 Protest the Criminalization of Dissent!
Protest at FBI Headquarters followed by a Convoy to Quantico Marine Base (Facebook invite)
Defend Free Speech and the Right to Organize
Opposing War and Occupation is not a crime!

Noon: Protest at FBI Headquarters
935 Pennsylvania Ave, NW Washington, DC
to demonstrate our outrage and indignation against police state surveillance, infiltration, and attempts to entrap peace, environmental, animal rights, civil rights, and solidarity activists.

1 p.m.: Convoy to Quantico VA
We'll take off from the centre of the American police state in a caravan to Marine Corps Base Quantico where military authorities are holding our brother Bradley Manning in an inhumane condition of solitary confinement. (MCB Quantico is 45 minutes south of DC)

Sponsored by World Can't Wait, Defending Dissent Foundation, WarIsACrime.org, Democrats.com, Bill of Rights Defense Committee, DC National Lawyers Guild, CodePink, Peace Action, Progressive Democrats of America, United for Peace and Justice, Witness Against Torture (list in formation)
"This is clearly a victory for opposition to undeclared wars which are illegal under international law, have led to the destruction of societies in Iraq and Afghanistan, bled the US Treasury in a time of recession, and caused human rights violations against civilians and combatants. Many of us will return to Washington, DC, to support an action on Tuesday, January 11, 2011 to protest the continued use of Guantanamo detention facility, including torture of detainees in violation of international law..."
Larry Everest combs through leaked U.S. cables about night raids in Afghanistan, and civilian consequences:

...The February 12, 2009 State Department cable noted, "Another special operation with casualties could tip the balance in Zabul towards anti-coalition forces," and there is "the firm public conviction that CF [U.S. Coalition Forces] are killing civilians and treating women badly." ("US embassy cables: Afghan tribal elders threaten to 'fight Nato like the Soviets,'" Guardian UK, December 3, 2010)..."
The New York Times reports today that the U.S. won't allow an American youth out of Kuwaiti detention:

WASHINGTON — An American teenager detained in Kuwait two weeks ago and placed on an American no-fly list claims that he was severely beaten by his Kuwaiti captors during a weeklong interrogation about possible contacts with terrorism suspects in Yemen.

The teenager, Gulet Mohamed, a Somali-American who turned 19 during his captivity, said in a telephone interview on Wednesday from a Kuwaiti detention cell that he was beaten with sticks, forced to stand for hours, threatened with electric shocks and warned that his mother would be imprisoned if he did not give truthful answers about his travels in Yemen and Somalia in 2009.

American officials have offered few details about the case, except to confirm that Mr. Mohamed is on a no-fly list and, for now at least, cannot return to the United States. Mr. Mohamed, from Alexandria, Va., remains in a Kuwaiti detention center even after Kuwait's government, according to his brother, determined that he should be released...